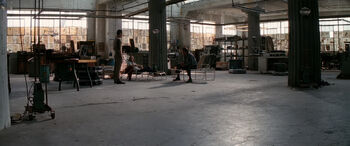 The Workshop is the place where the team prepared for the Fischer inception job. It is located in an abandoned warehouse in Paris, France. It appears to have once served as a print shop.
It is here that Ariadne was taught to build dreams and the rest of the team prepared for their respective parts, including Yusuf creating a customized sedative that leaves the dreamer still able to wake by a kick.
References
Edit
Ad blocker interference detected!
Wikia is a free-to-use site that makes money from advertising. We have a modified experience for viewers using ad blockers

Wikia is not accessible if you've made further modifications. Remove the custom ad blocker rule(s) and the page will load as expected.